Gay Slaves sex contacts & Gay Slave looking for masters. Are you looking for a new gay slave, or fancy trying out a bit of BDSM yourself, if so check out these sample ads from our gay slaves contacts looking for masters
"Please note we are a swingers site but do have 1000's of Gay contacts Ads"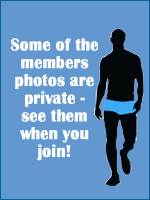 Featured Gay Slave / Gay Pig looking for Master : - - Gay Guy york wants to be dominated by master - hi there, 22 year old york lad looking for sex with strangers. Prefers dominant /masters men as i want to be your slave. Into bondage, spanking, toys and porn. I also like role playing with my masters. As a slave, i will pretty much do anything the master instructs. I am unable to accomodate as i live in a shared house, and i dont think my antics will go down too well with my other housemates. So if you are interested, you have to be able to accomodate. Im totally genuine, and i expect guys to be the same with me. - Yorkshire
"Here are a few of the Gay Slaves ads we have within the site, 1000s more are within the FREE members section, so what are you waiting for !!!!"
- Gay slave but can be bi if Master orders slave 2 use - well i am a virgin ass slave but experianced mouth, like to have fun but desire for a 24/7 relationship which i have hopefully found but dunno yet. just generally want to make folk happy and satisfied. want a Dominant knowing what they want, fun and open to new things. and pref out i know im not but would like 2 meet some 1 who was
- Gay slave enjoys bondage punishment and sex - i am a gay who enjoys bondage punishment and lots of fun i am always looking for some fun and enjoy being the slave who will obay your every commandI am looking to hear from Male members
- Gay Slut / Slave looking to be used by Master - slut slave looking to be used by Top or Tops in Essex or London into wax bondage cp ws sucking being fucking rimming use me hard and long. Master over 30 only I am looking to hear from Male and Group members - London
- Gay Slave Punish me Master -i am a gay obedeant slave that will do anything my gay masters asks of me, who enjoys being a sub i love to be bound and gaged and punished as well as being a slave to any man or couple i will do what ever i am told no matter what without questionI am looking to hear from Male and Couple members
Your Gay Slave Sex Ad could be here for free - Sign up today
......and guys we have loads more all waiting to meet up with local contacts ..